Arctic oil drilling, or oil drilling in the arctic, has been the subject of controversy over the last few months. Many petitions have arisen to keep arctic oil drilling at bay, as many people want the arctic to be a "no oil drilling zone"
Arctic oil drilling isn't just about conserving nature though. It's a lot more complicated, and more expensive than your conventional drilling techniques. First of all they must drill in the seabed, just to explore the territories, and if they do find any oil reservoirs, thy then erect the structure on top of the oil well to extract the oil, and keep eyes on pressure and just monitor the arctic oil drilling in general.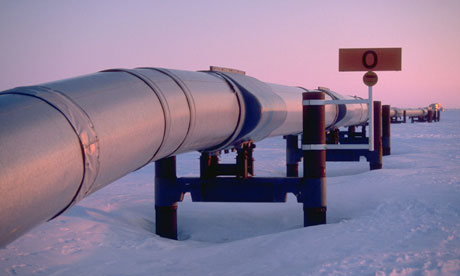 many people who are against arctic oil drilling express worries of deep water, freezing temperatures and icebergs, as it is unexplored territory and people don't know what to expect. They fear that the conditions that arctic oil drilling expeditions undertake could cause an UNDERGROUND spill, which could cause unimaginable repercussions/consequences for the company responsible, and the arctic wildlife.
Shell, who are aggressively pursuing an oil drilling in the arctic campaign, have tried to quench these worries by promising that if they ever did spill, they could clean up 95 percent of the oil. This is been scorned by many safety officials, due to the fact that the oil spill in the gulf of mexico, only 3 percent of the oil was recovered, and the arctic is even more remote. Peter Wadhams, who has conducted experiments to back up his claim, says that if an oil spill was to occur during arctic oil drilling winter months, the oil would become trapped into the ice, and possible drift thousands of miles across the arctic and be released at "random" locations during the spring. Now That would be an environmental disaster and a half.